iCare
From FitEyes email discussion forum posts
Filed Under (tags):
From a recent post to the FitEyes email discussion forum by Mark Stretch:

Filed Under (tags):
I am posting a question (and followup) which we received regarding the following article from the 'Asrani' study on the ICare portable tonometer..
Evaluation of the ICare Rebound Tonometer as a Home Intraocular Pressure Monitoring Device
Filed Under (tags):
In any tonometer (based on today's technology), you can have some, but not all of, the following:
ease of use
accuracy (reliability and validity of data)
low cost
portability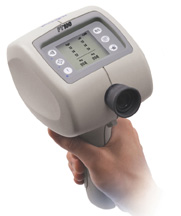 People tend to give a priority to portability and low cost. New products aimed at this feature set have recently been announced. Does it make sense to utilize those devices for self-tonometry?
We have to agree that any trade off that doesn't include reliability and validity of IOP data invalidates the whole endeavor of self-tonometry. Not only is it meaningless to do it if the data is not of sufficient quality upon which to make important decisions, but it could actually be detrimental to do self-tonometry in that case.
With today's technologies, portability entails user-alignment (in the context of self-tonometry). Proper user-alignment to produce a valid measurement, by definition, depends upon user skill as well as various specific conditions of each measurement. User-alignment, regardless of the tonometer, is difficult! (User-alignment is defined as the operator of the tonometer having to align the tonometer with the eye manually. Alignment is a very precise process requiring a steady hand, good eyesight, training and practice.)
Therefore, the requirement of user-alignment conflicts with the requirement of reliability and validity of IOP data. We cannot guarantee reliability and validity of IOP data when variable user skills are required to produce that data.
If any decent ophthalmologist or scientist (or intelligent thinker) considers a set of IOP data, they must consider how the data was obtained. If patient skill played a critical role in producing that data, as it does when user-alignment is required, the clear thinking person will immediately discount that data. Therefore, the self-tonometrist's efforts may not produce much of value.
Filed Under (tags):
My evaluation Icare ONE tonometer arrived today. I will compare it to:
    * Icare TA01i
    * Reichert 7CR Tonometer
    * Pascal Dynamic Contour Tonometer
    * Ocular Response Analyzer
    * Reichert AT555 Tonometer
    * maybe another one or two tonometers...
Look for a full review in the near future on FitEyes.com. UPDATE: I have decided not to publish my review of the Icare ONE at this time. Please read Are handheld or portable tonometers appropriate for home eye pressure monitoring?
Let me offer an analogy. If I were reviewing golf clubs, I would not include a review of a baseball bat. A baseball bat is not appropriate for playing golf. During the process of evaluating the Icare ONE, I came to a broader conclusion about all handheld tonometer and their appropriateness for self-tonometry (home eye pressure monitoring). Therefore, I feel it is better to have that general discussion first. You can read my thoughts here: Are handheld or portable tonometers appropriate for home eye pressure monitoring?
There is a related discussion on the Icare ONE here: New iCare ONE Tonometer Designed for Home Eye Pressure Monitoring
For now, here are some pictures of my evaluation Icare ONE tonometer.
Just arriving via FedEx (below). Some tonometers it will be evaluated against are shown in the background.
Filed Under (tags):