It is becoming more common knowledge that simply targeting IOP does not always prevent the deterioration of optic nerves and resultant visual field loss. There is currently much interest in the field of neuro protection and even neuro regeneration. Learn about one such exciting new area of treatment via alternating current stimulation which has demonstrated visual field improvement.
Introduction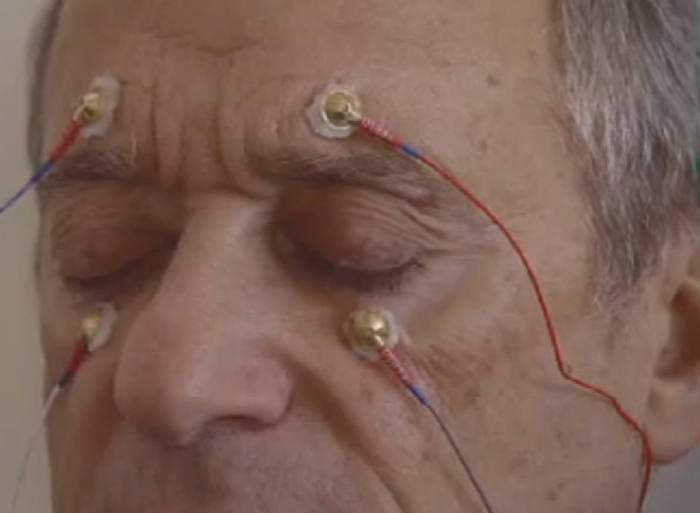 FitEyes hosted an interactive conference with Dr. Anton Fedorov regarding the use of alternating current neuro electrical stimulation which has the potential to partially restore visual field loss in glaucoma. He discussed the findings indicating that a certain amount of Improvement in visual function was confirmed via visual field perimetry. Also attending this meeting was film maker Joe Lovett who is a glaucoma patient with significant visual field loss, and who recently filmed a documentary about coping with blindness. Joe has undergone a few of these 'rtACS' procedures under Dr. Anton Fedorov, A Russian Neurologist, and Dr. Bernard Sabel Professor of Medical Psychology University of Madgeburg. Since undergoing several treatments, Joe has seen a noticeable improvement in his visual field. Noted glaucoma specialist Dr Robert Ritch (who is Joe's doctor) has attested to the visual field improvement in his case. There are currently treatments taking place in Germany for this potentially exciting new technology which can restore a measure of visual field loss resulting from various optic nerve neuropathies. The work is based on 20 years of research done on thousands of patients at the Human Brain Institute in St. Petersburg Russia.
Background
Non-invasive current stimulation can induce neuroplastic changes in the normal brain, including visual system structures. As we at FitEyes understand it, the therapy is not targeted directly to restoring the optic nerve but via the electric stimulation of the nerve, it targets the ability of the associated brain structures to interpret the data which comes in via the damaged optic nerve.The net result is an ability of the brain to interpret weak signals coming from an impaired optic nerve resulting from a number of different neuropathies of the optic nerve.
Methods
In general, the researchers spend a couple of days doing baseline examination of the patients vision. This includes visual fields and also EEG's to measure brain waves. From the observation of the visual field exam, it is these corresponding areas where there is partial function, and where vision is neither absent nor normal which provide an opportunity for restoration via increased detection by the associated brain structures. These visual areas are represented by grey blocks on the visual field exams (as opposed to the darker areas for which restoration is much less probable).
For the procedure, electrodes are attached around the eyes, and the alternating current is introduced slowly into each electrode. This AC current flows from the optic nerve to the target areas of the brain. During this time, the patient is likely to detect movement and light (a so called phosphene effect). With an increase in current, a clarity of the light is detected by the patient. The patient then signals the doctor and the frequency is adjusted. See the video below for a full demonstration of this procedure.  
Results
In addition to the case of Joe Lovett, studies demonstrate that 1/3 to 1/2 of patients participating in the trials experienced positive results. For example, in the study, 
Restoration of vision after optic nerve lesions with noninvasive transorbital alternating current stimulation
, 446 patients with optic nerve lesions were treated with non-invasive repetitive transorbital alternating current stimulation (rtACS), and current bursts were applied to induce phosphenes for one or two 10-day stimulation periods. rtACS improved visual field size in the right and left eye by 7.1% and 9.3% (p < 0.001), respectively. Visual field improvements were present in 40.4% of right and 49.5% of left eyes. Visual acuity significantly increased in both eyes (right = 0.02, left = 0.015; p < 0.001). A second 10-day course was conducted in 6 months on a subset of 62 patients and resulted in additional significant improvements of VA. Please view the document
Recovery from glaucoma optical neuropathy
to see the improvement in the visual fields (right click on this pdf document once opened so that you can rotate it). Note that in the results, the enclosed red line area represents the improvement post treatment from the (pre-treatment/original) blue line area.
Conclusions
rtACS represents one of the exciting new areas in non medicinal and non surgical improvement of visual fields in glaucoma and other optic neuropathy patients. At the time of this writing, more controlled clinical trials are needed to fully establish and confirm the degree of improvement which can be expected under certain conditions (based on patient history, diagnosis and other factors). Also, there are health factors and other exclusion criteria which might preclude some from participating in the rtACS trials or treatments. Please contact FitEyes to learn more about this procedure and discover whether it may benefit you.
Further Reading
Noninvasive transorbital alternating current stimulation improves subjective visual functioning and vision-related quality of life in optic neuropathy 
Restoration of vision after optic nerve lesions with noninvasive transorbital alternating current stimulation: a clinical observational study. 
Noninvasive Current Stimulation Improves Sight in Patients With Optic Nerve Damage, Study Suggests
Videos