Today was my first visit with a physician in my area who practices conventional and holistic medicine. My main reason for seeing her was to see if she had any advice regarding alternative treatments for glaucoma. She gave me a complete physical and sent me to the lab for blood and urine profiles. She wanted to check my kidney function because, in her view, the health of the kidneys influences the health of the eyes.
The office visit was long and I wasn't completely comfortable.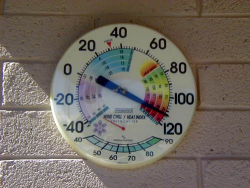 Maybe that's because her office was unbearably hot.  Sure, fresh air is nice. But in the South in August it's a bit extreme to leave the windows open and to not run the A/C. Furthermore, the doctor was wearing fur lined boots! I was just in disbelief when I noticed her fur-lined boots! (I couldn't help but think about the concept of balanced doshas from Ayurveda.)
 
She sent me home with copper oxide ointment (for the kidneys), Thuja oil (external, for the eyes), and a prescription for some homeopathic remedies. She also hit me with an astronomical bill for the office visit. After looking at the bill, I definitely felt even more uncomfortable than I already was.
Filed Under (tags):